Archive of "Latest News" Updates: 2007
Late 2007
Here is a short summary documenting our efforts in late 2007 to test and evaluate ocean-based water recovery techniques that could be employed on future missions.
Vehicle Mockup Recovery Simulation in Long Beach Harbor - 16 November 2007
________________________________________________________________________________________________
19 October 2007
The Prospector 8A launch (P-8A) took place out in the Mojave Desert on Saturday, 15 September 2007 under the sponsorship of the U.S. Dept. of Labor / California Space Authority's CIC WIRED program. The primary technical objective was flight testing of the new 4.5K lbf-thrust engine that we (the GSC/CSULB team) have been working on for the past year for our next generation of prototype NLV first stages. The vehicle consisted of the fourth such 4.5K engine (we have gone through a few during static fire testing - more details below) and associated propellant feed system strapped to the highly modified stage that had previously flown on the Prospector 5 and 6 missions.
Programmatic objectives included the creation of mentoring experiences in hardware development for aerospace students from CSULB and Stanford and other WIRED partners, as well as the manifesting of payloads from academic, government and commercial organizations. These included a set of CubeSat and CanSat deployment devices from Stanford, an RF telemetry system from CSULB, a wireless sensor networking experiment from NASA Ames and a package of items from Epsori Space Systems.
Student Participants in the P-8A Launch Operations
Launch took place on the first count. Ignition was nominal and the P-8 took off at over 7 g's - much higher than has been typical for our previous vehicles.
photo by Joe Mullin
photo by Joe Mullin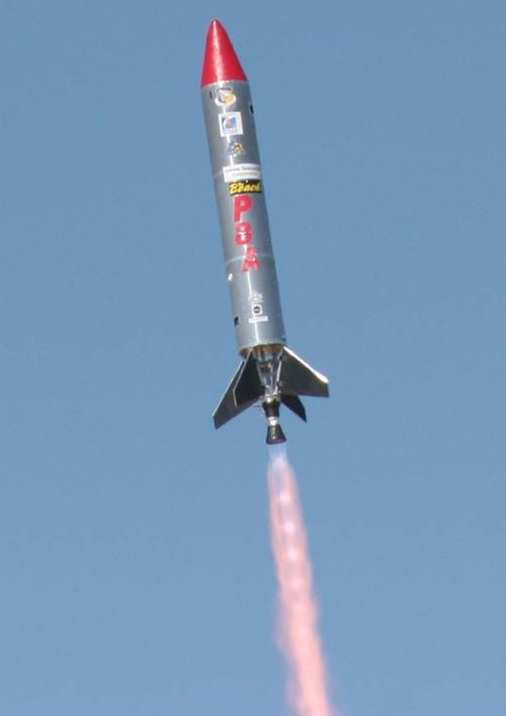 photo by Joe Mullin
We had reinforced the fins somewhat to handle the higher aerodynamic loads, but had not done a detailed analysis to nail down the requirements (classic case of tight budgets and competing priorities). This proved to be a bad decision because at approximately T+4 seconds and Mach 0.7 excessive flutter broke the fins apart and the P-8 became unstable.
photo by Joe Mullin
photo by Joe Mullin
photo by Joe Mullin
Due to the high lateral loads that resulted as the vehicle tumbled through the air, the main parachute partially deployed, thereby preventing the need for a "shovel recovery" out on the dry lakebed. Despite the multiple high shocks, the payloads survived intact and more or less in functional condition. It also looks like we will be able to reuse at least the injector from the engine.
Lessons learned from the P-8, the most obvious being fin design for transonic and supersonic regimes, are now being applied to the Prospector 9 prototype RLV that is in development under our Phase II SBIR with the Air Force.
Additional information about the P-8A, including videos, should be available soon on the CSULB web site.
________________________________________________________________________________________________________________________
Related Activities - 4.5K Engine Development and Testing
Prior to the P-8A flight test, there were also a number of horizontal and vertical static fire tests of a new 4.5 kblf-thrust LOX/ethanol engine (referred to internally as the "4.5K" engine). This thrust level, which is derived from the requirements for the NLV first stage, is approximately three times that of previous Prospector engines and drove major upgrades in a variety of propulsion-related subsystems. These static fire tests incrementally validated such advances in the injector design, lay-up processes for larger ablative engine chambers, externally-mounted ignition assemblies, bigger main valve assemblies and fabrication techniques for feed lines that now range up to 1 1/4 inches in diameter.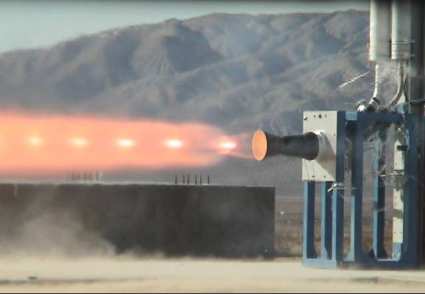 4.5K Engine During Horizontal Static Fire Testing - February 2007
Vertical Static Fire Test of the P-8A with the new 4.5K Engine - August 2007
Click here to view "Latest News" archived updates from 2003 through 2006.
---
Last Updated: 07 January 2009